November 20th, 2014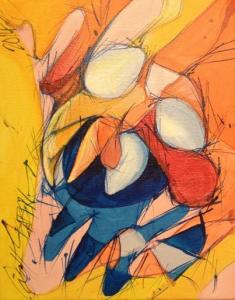 About a week ago my wife noticed that Broody Beverly the chicken hen was at it again. Winter time broodiness, yikes! There she was though, laying on a clutch of eggs, maybe 30 eggs in the corner of the barn behind a metal feed can, She was still as a dead frozen chicken, but not. For a couple of days I threw some pieces of bread her way. Sometimes a hen that goes broody will not eat nor drink, forever protecting her eggs like Uncle Scrooge hording his gold coins.

We decided to move Beverly out of the barn and into the cellar last night. I just could not see her surviving this cold spell, let alone if any chicks should hatch?? I prepared a cage and within that cage a box for her and her precious eggs.

The move went well. Maureen and I went out after the sun set, as they say this is the best time to make such a move. I put the box near Broody Bev and tried to push her in, this is when all the pecking started. Anticipating this I had on my work gloves but nonetheless it was frightening to be attacked non stop by a chicken. I quickly put a few eggs in the box with her and then started to fill an egg carton with the rest. I wrapped the carton with a sweat shirt and handed it to Maureen. At the bottom of the pile there was a broken egg and a few eggs stuck together of which I abandoned hope as I could not wrestle them free. Bev was still pecking at me anytime my arm came near the entrance of her box. We brought the eggs and Beverly into the cellar and I tried my best to place the eggs under her, she still pecking like a crazy chicken. I left the room and shut off the lights. This morning all looks well as she is still in "broody mode!" Will any chicks hatch after such a drastic move? Could Broody have kept them warm enough at all to begin the incubation during such a cold week? Stay tuned. In approximately three weeks we shall see!

Anyway this painting from last night captures the fierceness of Broody Bev and her protection of eggs.